Fresh Wine Grape Varieties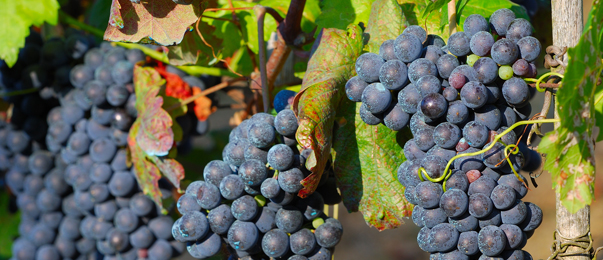 Our wine grapes, packaged in 36 and 42 lb. boxes, are considered the finest grapes for home wine making. Great wine starts with exceptional grapes. Our grapes are only picked at peak maturity, not merely at high sugar, for optimum flavor and production of quality wine.
Red Wine Grapes:
Aglianico
Alicante Bouschet
Barbera
Burgundy
Cabernet Franc
Cabernet Sauvignon
Carignane
Merlot
Mixed Black
Montepulciano
Movedre
Nebbiolo
Nero D'Avola
Petite Bouschet
Petite Sirah
Pinot Noir
Primitivo
Ruby Cabernet
Sangiovese
Syrah
Tempranillo
Valdepena
Zinfandel
Zinfandel - Old Vines
White Wine Grapes:
Chardonnay
Chenin Blanc
French Colombard
Malbec
Malvasia Bianca
Muscat Alexandria
Muscat Canelli
Petit Verdot
Pinot Grigio
Sagrantino
Sauvignon Blanc
Thompson Seedless
Viognier
Call or Email Us About Our Finest Wine Grapes
Don't see the Variety you are looking for?
Call us at (559) 673-5754 or E-mail us at Info@papagnifruitco.com
We will see what can be done!