Wine Grape Varieties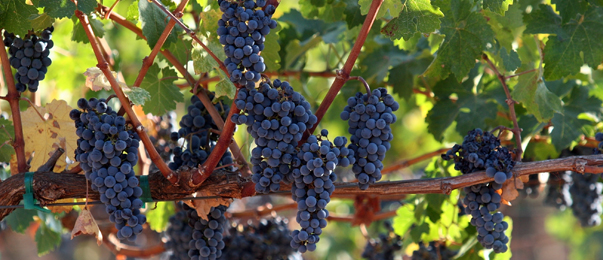 Red Wine
Alicante Bouschet: The King of Juice Grapes! The Papgani Family is known throughout the world for the premier production of this robust, dark-skinned/crimson-pulped variety. Rich on its own, or add it to ANY red wine for better balance, mouth feel, and naturally, color.
Barbera: High acid variety with a distinct astringent flavor: great for Italian style wines, or blended with Zinfandel or Petite Sirah.
Cabernet Sauvignon: Primary grape of Bordeaux style wines. Does very well mixed with Merlot and Carignane for a robust wine.
Cabernet Franc: Earthier cousin to Cabernet. Add a little bit of Cab Franc to Cabernet to make it taste more like a true Napa style Cabernet.
Carignane: Old Vine Carignane produces one of the most natural, well-balanced wines right now out of the box. Easy to drink, Carignane emulates wines produced from Spain, or the Rhone Valley.
Grenache: Major grape from Spain and the Rhone Valley. Use for all types of "New York" blends.  Lower in acid, but higher in sugar, a little bit will strengthen up low alcohol wines. Great for Rosè!
Merlot: The secondary grape of Bordeaux. Medium bodied and soft, it is a great introductory noble variety that does well when blended with Cabernet, Tempranillo, or Alicante Bouschet. Great for Rosè!
Montepulciano: Montepulciano is a vigorous red grape variety planted over much of central Italy. The grape variety is recommended for roughly a third of Italy's provinces but is most widely planted in Abruzzi.
Nero D'Avola: Nero D'Avola has long been the indigenous grape variety of Sicily, but has only recently gained popularity with its single varietal bottlings. It has been described as cherry, plum, raspberry, spice, and smoke.
Petite Sirah: Also known as Duriff. This grape produced big, bold wines with tons of mouth feel and complexity. Over the last 15 years, it has developed quite a following in California. If you like Zinfandel…
Pinot Noir: The most noble of grapes! Do not blend anything with Pinot, as its delicate flavors will be obliterated. Best for making traditionally Burgundian style wines, as it is the red from Burgundy!
Ruby Cabernet: Cabernet without the inherent deficiencies. Ruby Cabernet, developed in California, produces big, lush reds with complete and mature tannins, acids, and complexities- terrific with pasta!
Sangiovese: The grape of Brunello. This is the basis of Chianti. If you want the traditional ubiquitous Italian wine this is it!
Syrah/Shiraz: Big, tannic wine made popular from Australia! Syrah is very fruit forward and shows its best characteristics when made to drink right away. Avoid for a fruity rosè as the tannin are overpowering.
Tempranillo/Valdepena: Newcomer to the industry. This is the principal grape of Rioja: Makes stunningly well-balanced, deep colored and flavorful reds.
Zinfandel: The California grape that originated in Croatia. Also known as Primitivo. Zinfandel contains loads of flavor, but is markedly low on acid. A small amount of Barbera or Sangiovese is needed to fully express its desirable flavor profiles.
White Wine
Chardonnay: The versatile white produces wines as distinct and crisp as Chablis, or as typically rich as buttery California wines, the difference being levels of oak, and malolactic fermentation. Add some Semillon for a complementary taste treat.
Chenin Blanc: The most versatile white on the market. Any style of white can be made from this grape, and added to other noble varieties adds body, pH balance, and depth.
French Columbard: Similar to Chenin Blanc. Used by most California wineries for exported wines of all styles to the United Kingdom. French Columbard is naturally easy to ferment.
Malvasia Bianca: Great acid and mild, yet tangy Muscat flavor. Used best in slightly spritzy wines or added to other whites to increase floral characteristics.
Muscat Canelli: Low acid, very juicy early Muscat especially suited for lighter dessert wines. Primary grape for Asti Spumante.
Muscat of Alexandria: Truly a treasure of a grape! Full of flavor and perfect for dessert wines, or distilled grappa type spirits. Old timers add a little bit to almost every wine for extra fruit and floral characteristics in their blends.
Pinot Grigio: The grey white. Produces a very light style, easy to drink white with moderate acidity. Great for summertime.
Sauvignon Blanc: Versatile variety with citrus aromas and pronounced grapefruit flavor. Fabulous with fish when dry, or delightful when made slightly sweet. Easy to make; blend with rosès for better body.
Viognier: The grape with the best floral characteristics. Viognier is added to whites to enhance smell, and often is added to Syrah in small doses to increase its fruitfulness. 100% Viognier Wines tend to be yellow and lack acid; blends well with Chenin Blanc.